SproutCore is an open-source framework for building blazingly fast, innovative user experiences on the web.
New Tutorial to Help You Get Up and Running!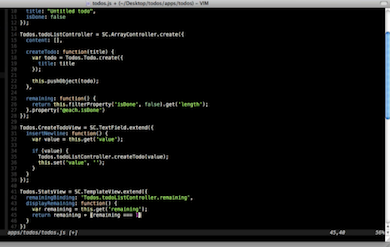 You've heard all about SproutCore and now it's time to see for yourself. It's easier than ever to get started with our new tutorial. In it you'll learn:
How to install SproutCore on your machine
How to build your first application
How to add new interactive elements
...and much more!
Get Started Now!
The New SproutCore Guides Are Live!
The community-generated Guides are designed to help you get up, running, and building, in no time at all. By developers, for developers.
Visit SproutCore Guides
All The Tools For The Next Generation
The Power of HTML5

Leverage the latest in web technologies and specifications.

Clean MVC Architecture

Keep your code sensible and organized for easy maintenance.

Incredible Speed

Client-side logic means no
more waiting on your servers.

Accessible Everywhere

SproutCore apps give you a native experience—on the web.

Scale, Scale, Scale

Your app will grow with you,
no matter how big you get.

Top Notch Theming

Built-in tools to help you and your app look good. Seriously.
Applications Using SproutCore